A play reading in New York!
 7 p.m., Tuesday, April 7, 2009, at Deutsches Haus, 420 W. 116th St, Columbia University, New York, USA .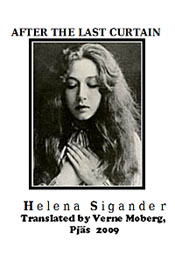 2009  After The Last Curtain  – Candid Reflections of Strindberg's Third Wife
by Helena Sigander
Waiting at St. Peter's Gate, actress Harriet Bosse looks back on her life with Sweden's acclaimed playwright.
The time and place is "after death" opposite the entrance to St. Peter's gate. Harriet Bosse is preparing their defence. Memories from life appear… 
There will be one intermission between Acts One and Two.
Translated by Verne Moberg
Featuring Mary Keefe as Harriet Bosse and Robert Meksin as Strindberg
Directed by Robert Greer
THE TRANSLATOR VERNE MOBERG has worked in publishing and taught language and literature at various universities. Shehas translated works by many Swedish authors and has also translated from Danish, Norwegian, and German. She co-produced the Nordic Theater Festival at Columbia in 1995, a commemorative program at Deutsches Haus for Victoria Benedictsson in 2000, and a memorial tribute to the distinguished translator Leif Sjöberg at New York's Scandinavia House in 2002. Dr. Moberg was awarded the Inger Sjöberg  Translation Prize in 1997 by the American-Scandinavian Foundation and received a prize from the Swedish Academy in 2000. In fall 2009 she will teach a Columbia course entitled "Sex and Gender in Scandinavian Literature." She has a BA from the University of Illinois (Urbana-Champaign), an MÅ from SUNY/Stony Brook, and a PhD from the University of Wisconsin-Madison.
THE DIRECTOR ROBERT GREER * recently performed and recorded Strindberg's "Little Catechism for the Lower Class"  and directed Cecilia Sidenbladh's Black Othello and The Ice Maiden; translated and directed Stig Dalager's Family Night at Repertorio Español with Shotgun Productions and Faces at Theatre Studio, Inc.; directed Verne Moberg's translations of Hans Hederberg's Alva and Gunnar, Margareta Garpe's Hanna's midsummer and All the Days, All the Nights, and plays by Kristina Lugn, Edvard Rønning, Victoria  Benedictsson, Laura Kieler, and Oravsky and Larsen; and plays by Mario Fratti, Anthony Swerling, Anne  Charlotte Leffler, Strindberg, Sartre and Corneille; at the Strindberg Museum, the Strindberg Festival, the Edinburgh Festival Fringe, the NY International Fringe Festival; Deutsches Haus and Minor Latham Playhouse; Rutgers College and UCLA; the Miranda Theater, Theater Row Theater, Tribeca Lab, the Pulse Ensembl, Synchronicity Space, and Barge Music; and The Duplex, LA; produced Viveca Lindfors' In Search of Strindberg, Actors' Studio and the Strindberg Festival, and Stig Dalager's I Count the Hours, La Mama ETC and Theater Row Theater. Educated at the CUNY Graduate Center, Emerson College and MIT, he studied Swedish at Columbia and the Swedish Institute. AEA* and SSDC†.
*AEA = Actors' Equity Association; †SSDC = Society of Stage Directors and Choreographers.
ON THE ACTORS
MARY KEEFE (Harriet Bosse) recently appeared as Edwina Williams in Tennessee Williams: The Artist and His World, for Accidental Rep. She has a long affiliation and created numerous roles in new play  productions at The Puerto Rican Traveling Theatre Professional Playwrights, and plays in NYC library  projects for Around The Block/Al Doblar La Esquina. For the Columbia Swedish Program she appeared in  staged readings at Deutsches Haus and recorded lead roles for the Scandinavia Off Broadway CD series:  as Alva Myrdal in Alva & Gunnar: 91 Days in the Long- Distance Relationship of the Myrdals… (Hans  Hederberg), Agnete in Agnete (Amalie Skram), and Krista in All the Days, All the Nights (Margareta  Garpe). She is an adjunct professor of acting at Nassau Community College and an alumna of the  Program in Educational Theatre at NYU. AEA, AFTRA, SAG.
ROBER MEKSIN (August Strindberg) is pleased to return to Columbia University's Deutsches Haus  readings, where he has performed on several occasions. Other credits include: Off- Broadway–The  Canterville Ghost; Off-Off-Broadway performances–Strindberg NY Festival, Riverside Shakespeare, and  Vital Theatre Company; regional theater work–Great Lakes Theatre Festival, The Cleveland Playhouse,  Playwrights Theatre of NJ, and The Levin Theater Company; performance workshops with Playwrights  Horizons and Ensemble Studio Theatre; numerous performances with Hudson River Classics and the Instant Shakespeare Company; touring nationally with Boston Chamber Repertory; and featured  performances in several independent film productions. He is a member of the New Jersey Repertory Company and sings with the NYC choral group, The Glass Menagerie. He received an MFA from Rutgers University, under the teaching of William Esper. AEA, SAG.
AEA = Actors' Equity Association
AFTRA = American Federation of Television and Radio Artists
SAG = Screen Actors Guild